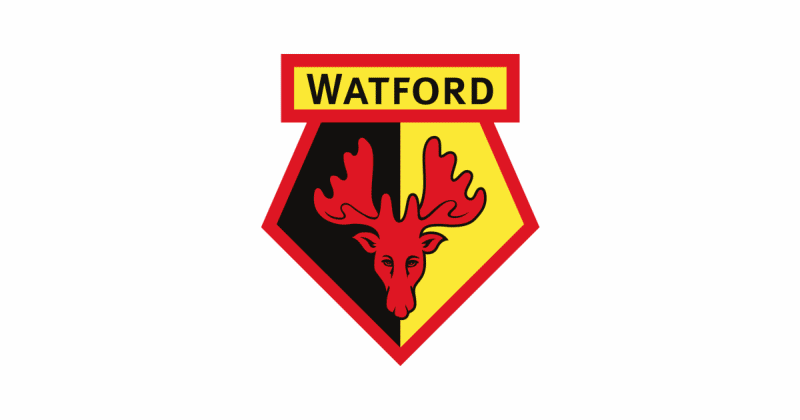 W A T F O R D F o o t b a l l F a n c l u b
Watford Football Club is a football club based in Watford, Hertfordshire, England, that plays in the Premier League. Founded in 1881 as Watford Rovers, the club entered the FA Cup for the first time in 1886, and the Southern League a decade later. After finishing the 1914–15 season as Southern League champions under the management of Harry Kent, Watford joined the Football League in 1920. The club played at several grounds in its early history, before moving to a permanent location at Vicarage Road in 1922, where it remains to this day. Watford spent most of the following half century in the lower divisions of The Football League, changing colours and crest on multiple occasions.
England manager Graham Taylor's tenure at the club saw Watford scale new heights. Between Taylor's appointment in 1977 and departure in 1987, Watford rose from the Fourth Division to the First Division. The team finished second in the First Division in the 1982–83 season, competed in the UEFA Cup in 1983–84, and also reached the 1984 FA Cup Final.
Watford experienced a decade of decline between 1987 and 1997, before Taylor returned as full-time manager, leading the team to successive promotions from the renamed Second Division to the Premier League for one season in 1999–2000. The club experienced a further one season stint in the top division of English football during the 2006–07 season, under Aidy Boothroyd's management.After eight years, Watford are again competing in the Premier League 2015–16 season, after clinching promotion from the Football League Championship in the 2014–15 season.Watford is currently owned by the Pozzo family, which also owns Udinese Calcio in Italy and previously Granada CF in Spain.
Sir Elton John, who owned Watford during both of Graham Taylor's successful periods as manager, served alongside Taylor as the club's joint Honorary Life President until 2008, only to later resume the role which he now shares alongside Graham Taylor.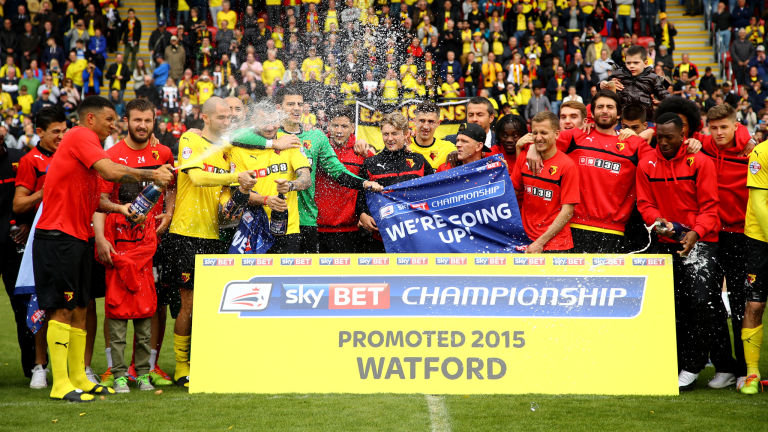 C h a m p i o n s h i p
Following a successful 2012–13 season which saw a league-best 85 goals scored, Watford ultimately finished third in the Championship, narrowly missing out on an automatic promotion place by two points, behind Hull. In the promotion play-off semi-final, Watford were defeated by Leicester City 1–0 in the away leg, but won 3–1 at home, with Troy Deeney scoring the winning goal on a last-second injury time attack following a Leicester penalty kick miss to advanceto the final. Watford were defeated in the final by Crystal Palace, 1–0, on an extra-time penalty by Kevin Phillips.
Watford went into the 2013–14 season full of confidence. They started the season well with positive results, including a 6–1 win over Bournemouth FC and then a 5–1 win over Barnsley. The club's form, however, soon dipped, and Watford struggled, losing five consecutive home matches. This lack of form ultimately led to Gianfranco Zola's departure from the club. In December 2013, Watford appointed Beppe Sannino as their new manager and finished the 2013–14 season in 13th place.
Despite winning four of the first five league games of the 2014–15 season, Sannino's future at Watford was subject to much speculation after it emerged some players were unhappy with his management style. Sannino resigned from his position as Watford manager on 31 August 2014 with the club second in the table, despite winning 4–2 at home to Huddersfield Town the previous day.
Two days later, on 2 September 2014, Watford confirmed the appointment of former Brighton & Hove Albion head coach Óscar García as the club's new manager and the successor to Sannino, beating off competition from fellow Championship side Leeds United for his services. García, however, resigned from his position as Watford manager on 29 September 2014 for health reasons, having been admitted to hospital with chest pains after the game against Charlton Athletic. Billy McKinlay, who had only been appointed first team coach on 26 September 2014, was appointed as his immediate successor on the same day – his first position in management after spells as a coach with Fulham, and as assistant manager with Northern Ireland.
However, on 7 October 2014, McKinlay was replaced as Watford head coach by ex-Chelsea defensive-midfielder Slaviša Jokanović. On 25 April 2015, Watford gained promotion to the Premier League after defeating Brighton 2–0 and other results going their way. Unfortunately for the Hornets, however, they failed to win their final game of the season against Sheffield Wednesday, thus gifting the Championship title to AFC Bournemouth in a dramatic season finale.

T o t h e | P r e m i e r L e a g u e
Watford finished third in the league in Boothroyd's first full season, and defeated Leeds United 3–0 in the play-off final to gain promotion to the Premier League.But the team did not record a Premier League win until November, and Ashley Young was sold to Aston Villa for a club record fee of £9.65 million in January 2007.
Watford finished bottom after only winning five league games,but did reach the semi-finals of the FA Cup. Boothroyd continued as manager, and spent heavily on players, including a then-club record £3.25 million for Nathan Ellington. Watford led the Championship by several points early in 2007–08, but only finished sixth; Boothroyd's team were defeated 6–1 on aggregate by Hull City in the play-off semi-finals. Boothroyd left the club by mutual consent three months into the 2008–09 season, with Watford 21st in the Championship table. Under Boothroyd's successor, Brendan Rodgers, Watford finished 13th.
Rodgers left to manage Reading at the end of the season;Malky Mackay, who had previously served as caretaker manager, was his replacement. Amid the departures of several key players during Mackay's tenure, including Tommy Smith and Jay DeMerit, and the club coming close to administration,Watford finished 16th in 2009–10 and 14th the following season.
Mackay left to manage Cardiff City in June 2011 and was replaced by Sean Dyche. Despite presiding over Watford's highest league position in four years, Dyche was dismissed as Watford manager in July 2012. He was replaced by former Italy international Gianfranco Zola following the Pozzo family's purchase of the club.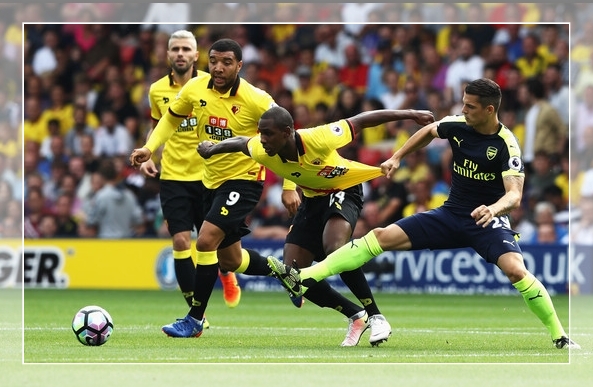 S t a d i u m
Watford Rovers played at several grounds in the late 19th century, including Cassiobury Park, Vicarage Meadow and Market Street, Watford. In 1890, the team moved to a site on Cassio Road, and remained there for 32 years, before moving to Watford's current stadium at nearby Vicarage Road. The new stadium was initially owned by Benskins Brewery; the club rented the ground until 2001, when it purchased the freehold outright. However, the club's financial situation worsened following the purchase, and in 2002 Watford sold the ground for £6 million in a deal which entitled Watford to buy the stadium back for £7 million in future. Watford took up this option in 2004 using a campaign backed and funded by the fans called "Lets buy back the Vic".
Vicarage Road is a four-sided ground with a capacity of 21,977.The East Stand, part of which was constructed in 1922, was closed to the general public in 2008 for health and safety reasons, although it still hosted the dressing rooms and the matchday press area in November 2013, the East Stand was demolished and in its place a new steel-framed, 3,500-seater stand was constructed.
The stand opened fully on Boxing Day 2014 and was named The Elton John Stand after the club's long standing chairman. The Graham Taylor Stand (previously the Rous Stand), built in 1986, has two tiers and runs the length of the pitch, with the upper section containing the club's corporate hospitality. At either end of the pitch, the Vicarage Stand is split between the club's family section and away supporters, while the Rookery Stand is for home supporters only. Both stands were built in the 1990s, financed by proceeds from player sales. In the summer of 2015, The Elton John Stand was revamped in order to accommodate an extra 700 seats.This number was revised a day later to around 1,000 extra seats following the announcement of an expansion in the north-east corner.
Between 1997 and early 2013, Watford shared Vicarage Road with rugby union side Saracens F.C.The stadium has hosted matches for the England under-21s, and senior international football between overseas teams. Elton John has also used Vicarage Road as a venue for concerts: He first played at the stadium in 1974 and returned in 2005 and 2010 to stage fundraising concerts for the club.Former events include horse and carriage shows and greyhound racing.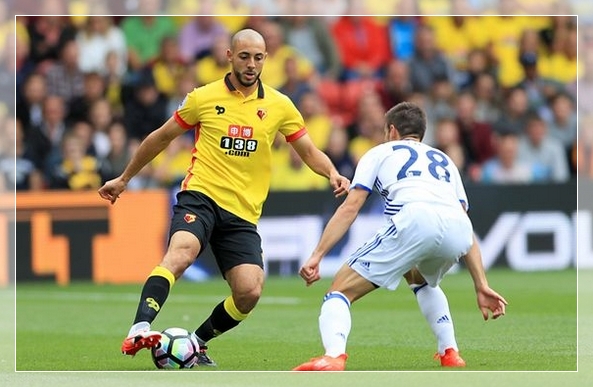 R e c o r d s
Striker Luther Blissett holds the record for Watford appearances, having played 503 matches in all competitions between 1976 and 1992, and his 415 appearances in The Football League during the same period is also a club record. Blissett holds the corresponding goalscoring records, with 186 career Watford goals, 148 of which were in the league. The records for the most league goals in a season is held by Cliff Holton, having scored 42 goals in the 1959–60 season.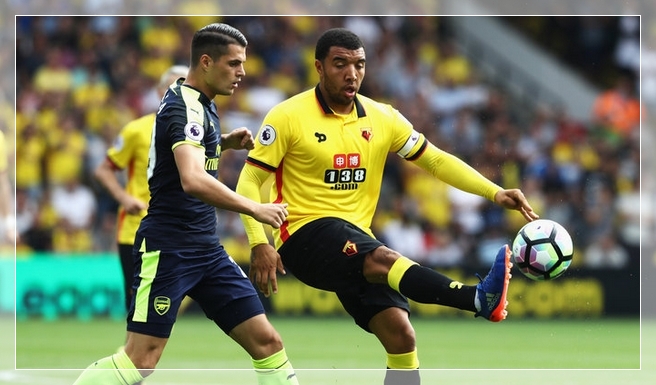 The highest number of goals scored by a player in a single game at a professional level is the six registered by Harry Barton against Wycombe Wanderers in September 1903.Watford's biggest ever competitive win came in 1900, when the team defeated Maidenhead 11–0 in the Southern League Second Division. The team's biggest Football League winning margin is 8–0; this first occurred in a Third Division South match against Newport County in 1924, and was repeated in a First Division match against Sunderland in 1982. Both of these matches were at home – Watford have won an away league match by five goals on six occasions, most recently in the 6–1 win against Leeds United at Elland Road in 2012. The most goals scored in a Football Leaguegame involving Watford is 11, in Watford's 7–4 victories against Swindon Town, Torquay United and Burnley in 1934, 1937 and 2003 respectively.The club's highest home attendance is 34,099, for a fourth round FA Cup match against Manchester United on 3 February 1969. The record home league attendance is 27,968 against Queens Park Rangers in August of the same year. Watford's home capacity has since been reduced due to all-seater requirements; it currently stands at 21,577.
Football bets on famous football league may go to SBOBET Sport Betting Website via mobile phone | iPhone | Androind | Windows Phone | Blackberry that available links are stable and easy-step-process. Members can thrust for 24 hours services.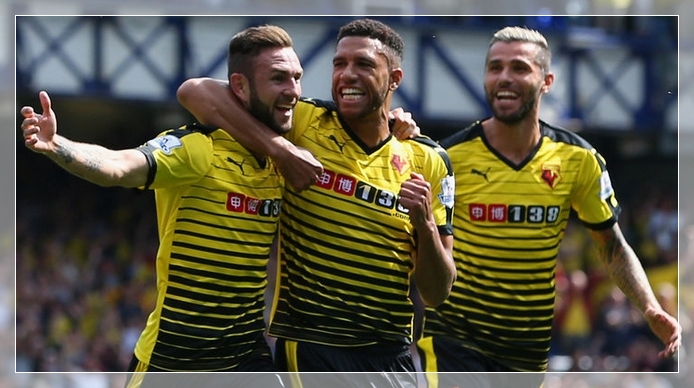 W A T F O R D | C l i p s
Cuplikan Gol Watford vs Manchester United | 3 - 1
Final Five Minutes Of Watford's 2-0 Brighton Win
WATFORD FC STADIUM TOUR
Watford get promoted to Premier League
Watford Football Club Season Review